We can help you to obtain a valid work visa so that you can help to support your family
Work Visas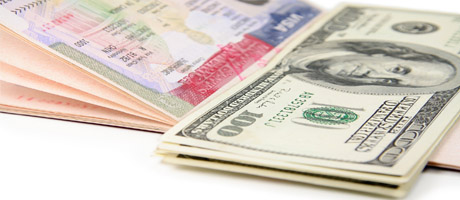 NON IMMIGRANT VISA
How can I get a work visa to come to the U.S. or to stay in the U.S. legally?
E-2 - Treaty Investor
Investors and their spouse's receive employment authorization to work. Petition can be filed in the United States or at the U.S. Embassy. The amount that needs to be invested will depend on the nature of the business. We have filed cases for a service type of business that required an investment amount of $25,000 USD and this case was successful. Please call for specific application of immigration requirements for your type of business investment.
H-1B Specialty Occupation
Professionals that hold either a bachelor's degree or its equivalent (which may equal in work experience) may be eligible for H1B status if the position requires that particular degree. Their future employers must demonstrate the ability to pay prevailing wage for the job either on a part-time or full-time basis.
Which jobs or work positions can qualify for an H-1B visa?
Pharmacy intern(s)
Market research analyst or Marketing manager
Director of marketing
Accountant
Computer Software or Computer Hardware engineer
Mechanical Engineer
Electrical Engineer
CEO / President
Legal research assistant or Medical research assistant
Architect
Cost Estimator (construction business)
The list above is not limited to the positions mentioned. There are many more positions that qualify for an H-1B visa, so please call our office to see if your position qualifies.
L-1 Intra Company Transferee
L-1 Via are available to managers, executives, and specialized employees moving to their employer's U.S. affiliate location. The L-1 holder's spouse's also receive employment authorization. The L-1 Visa allows for filing a lawful permanent residence (Green Card) through the U.S. affiliate.
Please note for any of the above Applications that are consular processed through the Embassy, our Jacksonville immigration law office also provide you with sample interviews.
TN - Professional Work Visa
A work visa category is available for citizens of Canada or Mexico under the North American Free Trade Agreement (NAFTA).
R-1 Religious Workers
Religious workers include ordained deacons or clergy, and any other religious worker, including religious professionals such as teachers of religion.
Please note that we handle many of these cases and even have a reference available from one of these clients for the initial R-1 we filed for him, his R-1 extension and ultimately his green card approval based on his religious worker status
OTHER (B-1 Business; B-2 for Pleasure)
For entry into the U.S. for business or pleasure. The B-1 Visa, business visitor visas are for brief visits. The B-2 Visa Pleasure is for non work related visits that allow visitors from three (3) to six (6) months stays.
The B-2 visa may be extended (excluding visa waiver) for additional periods allowing the visitor a maximum one (1) year stay per visit.
OTHER (Visa Waiver Program)
The Visa Waiver Program allows applicants from 36 select countries to enter the US without making a formal Visa application at an US Embassy. However, there is a requirement now that applicants apply to be eligible for the Visa Waiver Program through ESTA. For detailed information on the Visa Waiver Program, ESTA, the list of countries that are eligible, and the new passport requirements, please check out our attorney publications article on the Visa Waiver Program. Applicants are not allowed to work in the US if they enter the US through the Visa Waiver Program.
---
How can I check the status of my work visa?
You can check the status of your work visa by clicking here.
Lena Korial-Yonan, P.A.
9425 Craven Road, Suite 5
Jacksonville, FL 32257
Phone: (904) 448-6646
Facsimile: (904) 448-8221
Email: lena@needimmigrationhelp.com